Do you want to know which frozen veggie burgers are worth buying?
I have tasted all the popular ones, and here's my list of the six best.
If you're looking for a quick meal that tastes great but doesn't take much effort, then these are the best options out there. They taste delicious, and they're healthy too! So go ahead and buy them today – your stomach will thank you later.
So which is the best-frozen veggie burger? The Dr. Praeger's Frozen California Veggie Burgers are definitely the best-frozen veggie burger out there. They're made with all-natural ingredients, no preservatives, and they're not frozen. They taste great too. Plus, they're vegan and gluten-free.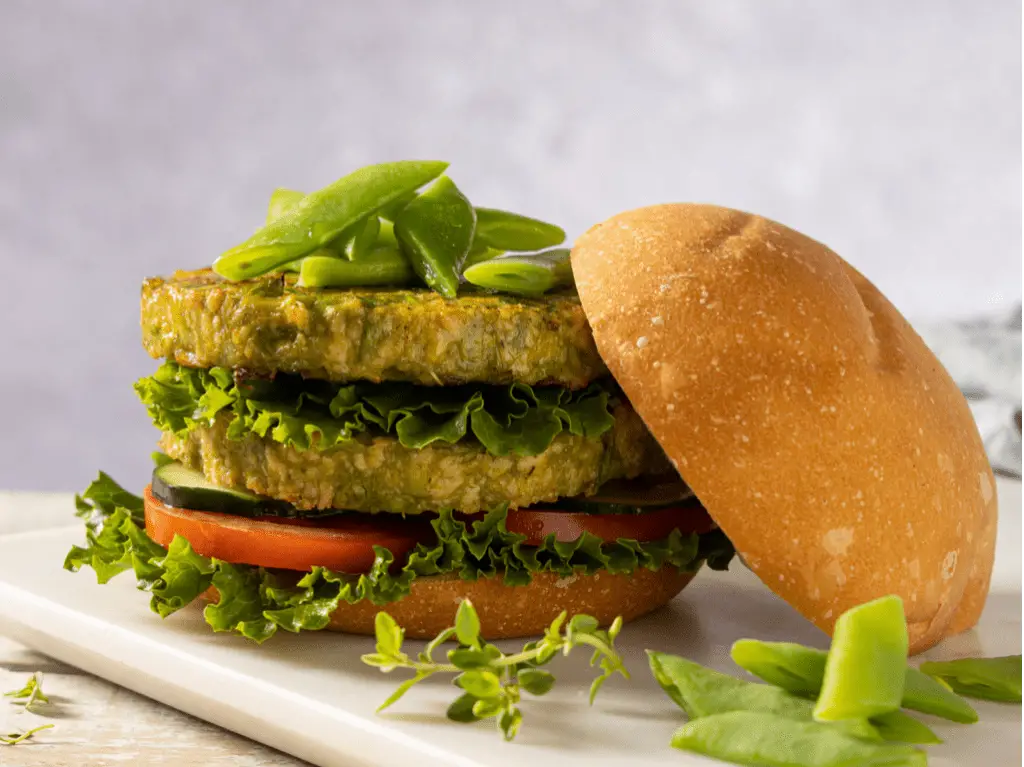 Here's my list of 6 tasty frozen veggie burger options.
Dr. Praeger's Frozen California Veggie Burgers
Do you love frozen veggie burgers but want to try something a little bit different? If so, then you need to check out Dr. Praeger's frozen California Veggie Burgers.
These delicious frozen veggie patties are made with organic ingredients and contain no gluten or soy in them either.
They have a great flavor and are perfect for those who want a healthier frozen burger alternative.
I really love these frozen burgers, and they are definitely one of my favorites. Because they are organic, I know that I am eating something good for me, and they taste great too.
These veggie burgers are the perfect on-the-go food. They're frozen, so you can just pop one in your oven when it's time to cook them, and they taste delicious!
My favorite thing about these veggie burgers is how great they taste and what a perfect texture! I cooked them in an air fryer for 10 minutes at 400°, which made their exterior nice and crunchy.
These are great with a little mayo and pickle on the side. They taste like real beef, but they're still low-calorie!
It's also a great alternative to the traditional beef variety. They're packed with flavor and easy enough for any meal, even dinner!
Gardein Gluten-Free Plant-Based Chipotle Black Bean Burger
When it comes to frozen veggie burger options, Gardein's Chipotle Black Bean Burger is a clear standout.
Not only does it have a delicious smoky flavor, but it's also gluten-free and vegan. This makes it perfect for people with dietary restrictions or preferences.
This frozen veggie burger also has a great texture and maintains its shape when cooked. You can pan-fry it or cook it in the microwave if you're short on time.
I like to serve these frozen veggie burger patties on a bun with lettuce, tomato slices, and my favorite condiments.
You could even throw it on the grill for an authentic flavor! It's so versatile that there are endless meals to be made with this frozen veggie burger.
This Gardein Gluten-Free Plant-Based Chipotle Black Bean Burger is not your typical veggie burger. It has an amazing texture and flavor that even nonvegetarian consumers will love!
The best way to make a healthy and delicious meal! These plant-based burgers are made with black beans veggies. They also have an authentic chipotle flavor that will leave your taste buds satisfied in no time at all.
This delicious black bean burger is made with 9 minutes of prep time and only needs to cook for about 5-10 minutes before it's ready. It tastes just like beef so that you can enjoy your favorite foods without the meat!
Hilary's, Organic The World's Best Veggie Burger
If you're looking for a frozen veggie burger that is both organic and delicious, Hilary's World's Best Veggie Burger is a great option.
It's made with only organic, whole food ingredients and is gluten-free and vegan.
The burger is also soy-free and dairy-free, making it a good choice for those with food allergies or sensitivities.
I enjoy the texture of this frozen veggie burger, as it's not too mushy or crumbly.
Hilary's, Organic The World's Best Veggie Burger These veggie burgers taste great. They seem to be ground/mixed grains and vegetables like a croquette instead of gluten mixture; they are easy to cook on the stovetop, coming out crispy outside with no grease or mushiness inside!
My favorite part? The flavor is fresh – not greasy at all, which means you don't have that sticking feeling in your mouth after eating one(which sometimes happens when cooking veggies.
I also love the fact that it is made with real vegetables and whole grains!
This is the perfect replacement for meat-eaters who want to eat healthier but still get their fix of veggies and grains. This burger has no preservatives, no artificial flavors, and is GMO-free.
MorningStar Farms Veggie Burgers
Did you know that MorningStar Farms has a frozen veggie burger option? It's plant-based, and it comes in a spicy black bean variety.
This is one of the best-frozen veggie burgers because it doesn't have any artificial ingredients, and it's full of flavor and texture.
It has a spicy kick to it, so if you like some heat in your frozen veggie burgers, this could be the one for you! This frozen
I can say from experience that this frozen burger is a great option when you're in a hurry or if you just don't feel like cooking.
They use organic ingredients, and their deliciousness will make your mouth water with each bite!
These black bean ones from MorningStar Farms are consistently good, they don't give me any problems, and the smell of these burgers reminds me that I'm eating a meaty vegetarian burger!
I love how flexible this product is in terms of what kind of food you want. The spice level is mild, and it's not hard to make a healthy frozen veggie burger with this!
I love the spice, and they don't crumble during cooking. The patties solidify into a tasty, meatless burger that tastes just like your favorite grilling recipe without any animals involved (or stressed out).
Dr. Praeger's, Super Greens Veggie Burgers
The Super Greens frozen veggie burger from Dr. Praeger's is one of the most popular frozen veggie burgers on the market today, and this is for a good reason.
It looks and tastes like a real hamburger! It has an excellent taste that isn't too salty or sweet.
I think this is a great choice for anyone who wants a frozen burger that doesn't taste like cardboard.
This Burgers Flavor is a healthy alternative to the traditional beef burger that will satisfy any vegetable lover!
They crisp up nicely in just under ten minutes sitting on top of an oven heat-safe surface, so all they need now is some tasty toppings or condiments before being ready to eat right away.
They have a texture and flavor that will remind you of traditional beef burgers, but with a fraction of the calories and fat.
These burgers contain generous helpings of leafy greens and other tasty additions like beets or carrots that give them an extra something special.
Amy's California Veggie Burgers
Amy's California Veggie Burgers are a great frozen option for those who don't eat meat, are on a plant-based diet, or just want to limit their intake of red meat.
They're made with organic ingredients and contain no added preservatives or artificial flavors. Also, they have a great texture and flavor.
I like to heat these frozen veggie burgers on the grill or in a pan with some olive oil before serving them.
The frozen Amy's California Veggie Burgers are very convenient because they come pre-cooked and packaged, so you can easily keep them stocked in your freezer.
These veggie burgers are so juicy and flavorful! I cooked them in the air fryer, which gave them a nice golden color with an excellent savory taste.
California Veggie Burgers. This is a tasty burger that hits the spot whether you're grilling or heating it in the oven and is very filling!
I can't believe how much better these Amy's California Veggie Burgers taste! They're really filling and have a rich flavor that lasts longer than most foods I've tried in the past.
Conclusion
The perfect frozen veggie burger is one that tastes great, is healthy, and frozen well enough to stay frozen on the way home from the store.
If you're looking for frozen veggie burgers that are tasty, nutritious, and easy to prepare, then these six frozen veggie burger options are all worth trying.
They come in a wide range of flavors and textures, so there's something for everyone, and they're all frozen well enough to make sure that you'll have a delicious meal even on your busiest days.