Do you ever find yourself too busy to cook dinner?
I know how it feels. Sometimes, we just want something quick and easy that doesn't take up a lot of time or effort.
That's why I've tried all the frozen burritos out there, so you don't have to! Now you can save your money and buy only the best ones for your family.
So which is the best frozen burritos? The El Monterey Beef and Bean Chimichangas are my favorite frozen burritos. They're made with beef and beans, so they have a really hearty taste that's great for those cold winter nights when you just want to relax at home.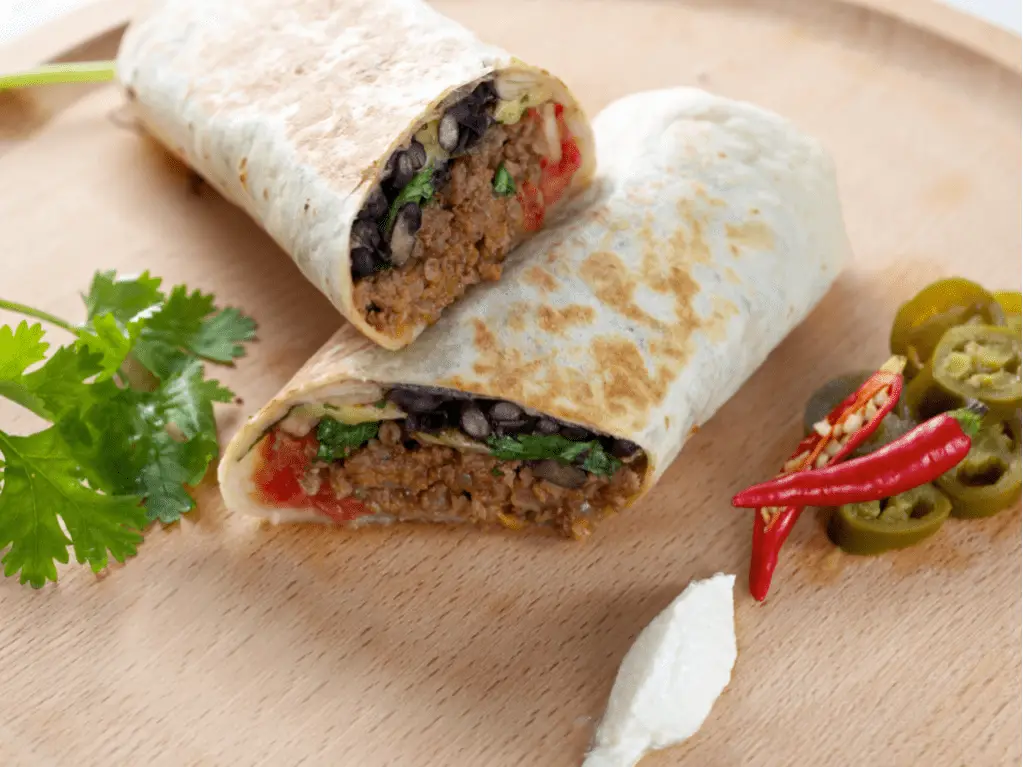 Here's my list of 7 tasty frozen burritos options.
El Monterey Beef and Bean Chimichangas
Do you love frozen chimichangas? It's true, frozen burritos are not the same as homemade.
But they do have a lot of advantages that make them more than worth it for busy families on the go!
They're a great way to have a hot, hearty meal without having to spend a lot of time in the kitchen.
I liked frozen chimichangas because they were simple to make. You just add frozen burritos to a pan and heat them up; then, you have a quick meal that tastes delicious!
I loved that the frozen chimichangas were made with real beef rather than fillers and preservatives.
For a quick and easy snack, I'll microwave these for a minute, then place them in the toaster oven for a few minutes. The insides are hot and oozy, and the outside has a bit of a crunch – and most importantly, it isn't soggy!
Check out their prices on Amazon today to see if it's something worth trying yourself.
El Monterey Spicy Bean & Cheese Chimichanga
These frozen burritos are made with real cheese and beans, making them a great option for those who are looking for something nutritious.
They're also smothered in a spicy sauce that will give you a kick and keep you coming back for more.
I've tried frozen burritos from many different brands, and the frozen burrito brand name I always go back to is El Monterey.
I liked this frozen burrito because it was filled with a lot of different kinds of ingredients.
These and other Chimichangas are better when they are fried until lightly golden brown. When done, place Chimichangas on a plate and top off with Kraft's Triple Cheese mix and microwave until cheese is melted. Add chives and sour cream as side or topping and enjoy!
Amy's Cheddar Cheese Burrito with Beans and Rice, Frozen Meals
Amy's frozen burritos are a great option for busy people looking to make something quick, easy, and delicious.
They have an extensive range of frozen burritos available that vary in size from small single servings up to large family packs with four individual-sized portions.
Each frozen meal is made using high-quality ingredients, including organic tomatoes, non-GMO tofu, beans, fresh vegetables such as green onions, along flavorful cheeses.
I liked the frozen burritos because they're great for use in recipes such as tacos and quesadillas, making them a versatile option to have on hand.
I've tried a lot of frozen burritos over the years, but this is one of my favorites.
The tortilla was AMAZING and tasted fresh. The beans and cheese itself had a good flavor.
I keep an array of Amy's organic burritos in the freezer. Why? Easy. 5 min in the microwave And boom! Done! It always reliably tastes good!
Alpha Foods Chick'N Fajita Burrito
These frozen burritos are really quite good. I was a little worried at first that they would be frozen and not hold up well, but these were very tasty once heated in the microwave. They're full of flavor as well!
They're made with real chicken, so they're a good option if you're looking for something a little healthier.
I've tried frozen burritos before, and they were frozen solid, but these were soft without being soggy.
I liked that these were a vegan option and that they had a good amount of protein.
Also, it packs a delicious flavor! It's a little strange in terms of the consistency and texture of the filling, but I was very impressed by how tasty it was, especially compared to other plant-based brands that tend to be a little bland. I didn't even need to add hot sauce.
These make me happy! It's basically a vegan hot pocket! Gooey and tomatoey and utterly perfect!
Sweet Earth, Big Sur Breakfast Burrito
These vegan frozen breakfast burritos from Sweet Earth are a great option if you're looking for something hearty and satisfying.
They're made with organic ingredients, and they're packed with protein and fiber.
Plus, they have a delicious sweet potato hash brown filling.
I've tried frozen burritos before, but most of them were frozen for too long.
I liked that these burritos weren't dry or rubbery, and they had a good flavor.
This is a great simple way to have a healthy breakfast or for lunch. It was very tasty, and the ingredients were healthy.
Some burritos are easy heartburn, but I found the Sweet Earth burritos tastier than you would expect for a frozen burrito–especially with wholesome ingredients.
Alpha Foods Burrito Lovers Variety Pack
If you're looking for a frozen burrito that covers all the bases, the Alpha Foods Burrito Lovers Variety Pack is a great option.
It comes with six different kinds of burritos, so there's something for everyone.
Plus, they're all vegan and gluten-free, making them perfect for people with dietary restrictions.
I've tried a lot of frozen burritos, but these are by far the best. They're super easy to cook and taste amazing.  
I liked that these frozen burritos are gluten-free and vegan. I also liked how easy they were to cook, which saved me a ton of time in the kitchen when I wasn't feeling up for cooking myself.  
Definitely the best burrito out there for vegans. It is so good, and I am addicted to these burritos. The only thing I wish they would change is the tortilla because of the ingredients and make it more low carb. But other than that, the burrito is so great!
Conclusion
The perfect frozen burrito is one that has a great taste and texture. They're also easy to prepare, without a lot of fuss.
In the end, frozen burritos are a great option for those who want to eat healthily and still enjoy a delicious meal.
With an understanding of frozen burritos and the way they work, you'll be able to find something that truly fits your needs.
If you want to try some new flavors at home but not deal with making them yourself or going out into the cold weather, then I recommend trying some of these best-selling brands that offer a variety of options.