Potstickers are one of my favorite foods, but which ones should I buy?
I tasted all the popular potstickers to tell you which ones are worth your money.
You don't want to waste your time or money on potstickers that aren't going to be delicious. I've found the best ones for you, so you can just buy them and cook them up without any fuss.
So which is the best-frozen potstickers? The 365 by Whole Foods Market Vegetable Potstickers are definitely the best-frozen potstickers out there. They're made with all-natural ingredients, and they have a great flavor that everyone will love. Also, they're vegetarian, so they're perfect for anyone who is looking for a meat-free meal.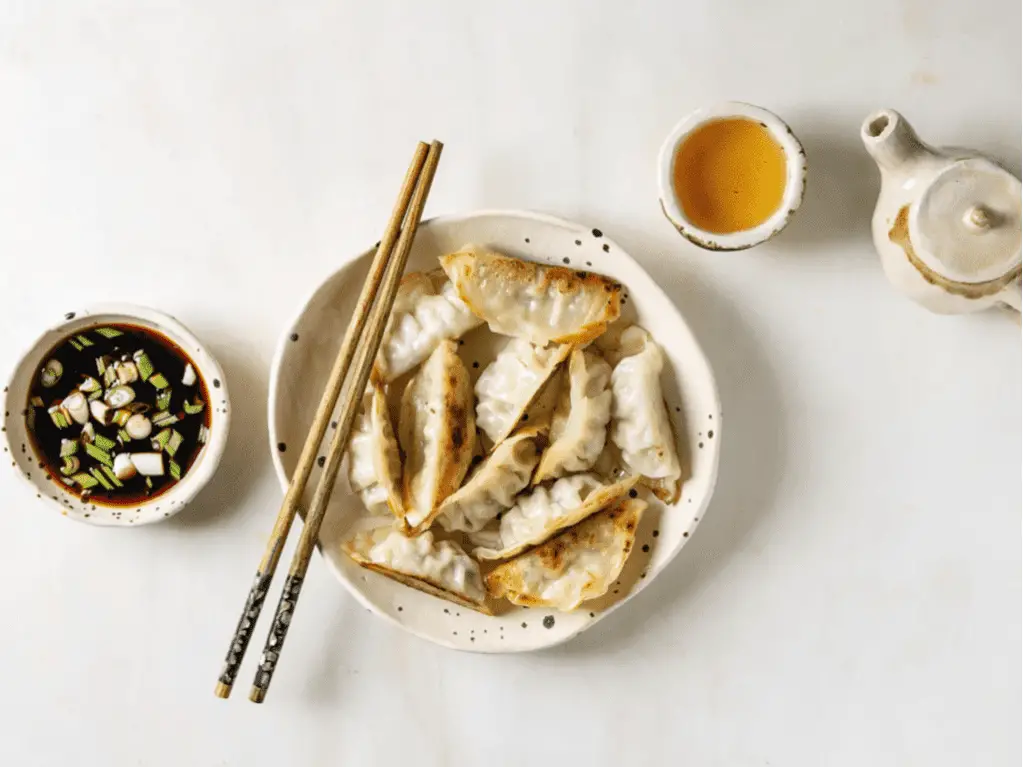 Here's my list of 5 tasty frozen potstickers options.
365 by Whole Foods Market, Vegetable Potstickers
Do you love potstickers but don't have time to make them from scratch? 365 by Whole Foods Market has you covered with frozen Vegetable Potstickers.
These potstickers are vegan and gluten-free, making them a great option for those with dietary restrictions.
They're also made with organic ingredients, ensuring that you're getting the best quality possible.
I really like the flavor of these potstickers – they're not too bland, but they're also not overly spicy.
I think they're a great option for people who want something quick and easy to eat that's still healthy.
These wonderful vegetable potstickers are a great complement to fried rice, cucumber/avocado rolls, or the garden crablets cakes & teriyaki meals. They taste amazing with Koyo ramen!
They also are a great alternative to the traditional chicken or pork variety. They're tasty, filling, and healthy!
The texture of these frozen potstickers is spot-on – they're not too soft, and they don't fall apart when you cook them.
Feel Good Foods, Potstickers Chicken Gluten-Free
if you're looking for frozen potstickers that are gluten-free and contain no MSG, the feel-good foods chicken potstickers could be just what you're looking for.
They have a light and crispy texture, with a rich filling that's full of flavor. The frozen version is also less greasy than its fried counterpart, which makes it healthier too!
I enjoy cooking frozen potstickers because it allows me to cook them quickly when I need something fast for dinner or lunch.
They're also great snacks on their own as well if you want a quick bite in between meals without having to prep anything else up beforehand.
It has a tangy sauce and juicy meat inside each ball of dough, making for an enjoyable meal despite being gluten-free. They do taste like an authentic restaurant dish. The dough isn't traditional and doesn't brown properly, but the flavor of these delicious potstickers makes up for it!
LING Potstickers Frozen Pork & Vegetable
These potstickers from LING are a great option if you're looking for something that's both pork and vegetable-based.
They're made with natural ingredients, so you can feel good about eating them. And they have a really nice flavor – not too bland, not too overpowering.
Plus, they're frozen fairly quickly after being made, so you know they won't have been sitting around for months on end.
I think what makes these frozen potstickers stand out is their texture – they're crispy on the outside and chewy inside.
I like to cook them in a little bit of oil over medium heat until they're golden brown and crispy. They only take about five minutes to cook, so they're perfect for a quick and easy meal.
With LING Potstickers, you can have restaurant-quality potstickers at home. They're made with all-natural ingredients – a succulent blend of pork cabbage, green onions ginger garlic – real good food for your family's dinner table!
It's served with signature dipping sauce for an ultimate experience that will leave your mouth watering and stomach rumbling!
Feel Good Foods Potstickers, Vegetable
If you're looking for a frozen potsticker that is both healthy and delicious, the Feel Good Foods Vegetable Potstickers are a great option.
They're made with organic vegetables and whole grains, so you can feel good about eating them.
And they taste great too – these potstickers are crispy on the outside and tender on the inside.
I like to steam them in a bamboo steamer, but they can also be pan-fried or baked.
You'll want to keep these frozen potstickers stocked in your freezer because they're so easy and quick to make. They only take about 15 minutes from the frozen state if you steam them, and even less if you decide to pan-fry or bake them.
The potstickers were delicious! They came out soft and not dry. The dumplings tasted fresh, like vegetables packed with a tasty sauce.
Their crispy, salty exterior will keep you satisfied, while the soft interior provides a lovely chew that's sure to please!
The veggies weren't dry, and they didn't taste like you're eating something that's been sitting around for hours before going into your mouth!
Feel Good Foods Dumplings Pork
If you're looking for frozen potstickers, you can't go wrong with the Feel Good Foods Dumplings Pork.
These pork and vegetable-filled dumplings are a great option for an easy meal, and they're made with all-natural ingredients, so you can feel good about eating them.
Plus, they're frozen fresh, so you can take them out of the freezer any time and enjoy them without worrying about how long they've been thawing in your fridge.
I like to serve these frozen potstickers with some fresh veggies on the side, like carrots or broccoli florets.
You can't help but feel good after eating a dumpling made from Feel Good Foods' ingredients. The flavor is so wholesome and natural, and it's like taking your mind off all the bad things in life for just one moment!
With a crispy outer layer and juicy filling, these dumplings will leave your mouth watering for more. The ingredients come together to create an amazing taste that you won't want to miss out on!
These dumplings are great for when you want something that's easy and quick. The pork inside is tender, delicious with just enough spice to make them taste amazing!
Conclusion
The perfect frozen potstickers are one that is easy to cook and doesn't require a lot of cleaning up.
In the end, frozen potstickers are convenient frozen food that you can cook in just minutes for a hot snack or meal. They come in all different varieties, so there is sure to be one that suits your taste buds.
So next time you're feeling like having some frozen potstickers but don't want to spend hours cooking them from scratch, then I recommend trying some of these best-selling brands that offer a variety of options.